He had the opportunity to express his very pronounced qualities with all the lines; however, from a statistical point of view, it obtained its best results on the one hand with the descendants of Dago, of which it softened a somewhat unpleasant typicity, to preserve the class and the rump, and on the other hand with that of Jalk v. Fohlenbrunnen, of which he tempered a certain rigidity and retained positive traits such as robustness and balanced proportions. Many children of Quanto reached high places: at least twenty-three Excellent and six Auslese. Among them, Dick v. Adeloga (Sieger 1973 and first Auslese 1974) represented for a long time in the eyes of enthusiasts the living image of the standard.
With exceptional harmony, excellent angles and great expressiveness, he was also a walker of great strength and very tenacious. Having disappeared prematurely, he left behind him a flock of children, among them two high-flying subjects: Herzog c. Adeloga and Grando c. Patersweg. Over time, Dick's descendants were seen to show unpleasant types and colors that dated back to his maternal grandfather, Caro c. Schaafgarten, so that, little by little, his dynasty lost its splendor.
            Grando c. Patersweg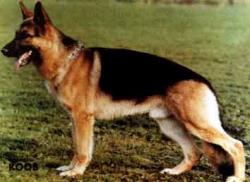 Lasso di Val Sole                                           
| | | |
| --- | --- | --- |
| parents  | grandparents | great-grandparents |
| | Cindor vom Zollgrenzschutz | Condor von Schnapp |
| Quando von der Wienerau | | Carmen vom Sixtberg |
| | Yoga von der Wienerau | Lido von der Wienerau |
| | | Frigga vom Asterplatz |
| | Veus von der Silerbuche | Dago vom Schloss Dahlhausen |
| Sara vom Sonnenberg | | Gina von der Silberbuche |
| | Dolly vom Sonnenberg | Dago vom Schloss Dahlhausen |
| | | Sara vom Rat |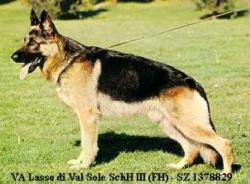 Inbreeding
– 3.3 VA Dago vom Schloß Dahlhausen
– 4.4 V Raps vom Piastendamm
– 4.4 V Fanny vom Haus Goldschmied
– 5.5 V Onyx vom Glockenland
– 5.5 V Blanka von der Prinzenruh
– 5.5 V Atlas vom Piastendamm
– 5.5 V Heidi vom Haus Poetsch
The line of Lasso di Val Sole was however much more important and lasted longer. This dog born in Switzerland and bought in Germany, won the Auslese title three times. His mother was closely related to Dago; it combined the latter's class with the qualities of Quanto, notably its fore and its delicate harmony. Its reproductive activity was qualitatively very consistent, with the exception of a few rare cases reproducing problems typical of the maternal branch: long snouts and excessive angulations of the rear. Among his children, 158 managed to be selected in first class, and among them at least 11 finished Auslese!
A significant example of a happy cross between the lines of Quanto and those of Canto was certainly Reza c. Haus Beck, son of the famous breeder Flora c. Königsbruch. This male with a powerful and very expressive trunk never managed, despite his high-quality level, to appear in the championship in Adult class. He was, however, a reproducer of capital importance, which transmitted proportions and an anterior of quality, but also of the force and a very pronounced type.
           Reza c. Haus Beck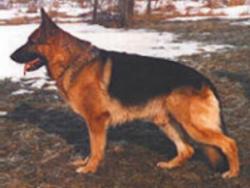 Likewise, a Canto sister, Celly vd Wienerau, gave birth to Vello v. Unterhain: this subject with a superb trunk was the father of many high-ranking subjects, although he had never reached high places in the championship. Among the children of Quanto, Gundo c. Klosterbogen stood out: this expressive dog was the son of the famous Connie c. Klosterbogen, Siegerin 1969, from which he had inherited the expressive qualities but also the constitution.
Gundo c. Klosterbogen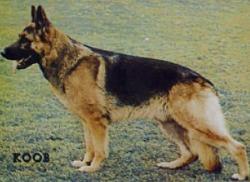 Vello v. Unterhain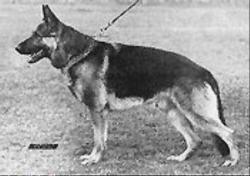 We could cite many other Quanto children, some subjects were excellent reproducers, but the list would be far too long. One of them still deserves mention, however, even if he never reached a great sporting level, because he is at the origin of a particular line of females: Ali v. Katzenbuckel. This dog, with an excellent character, also participated in a working championship; he was the father of the famous breeders Otti and Reni c. Trienzbachtal, at the origin of a whole long dynasty, property of the breeder Bucher, who for a long time took on certain essential qualities – in addition to modern – from the large, even the gigantic Quanto vd Wienerau.